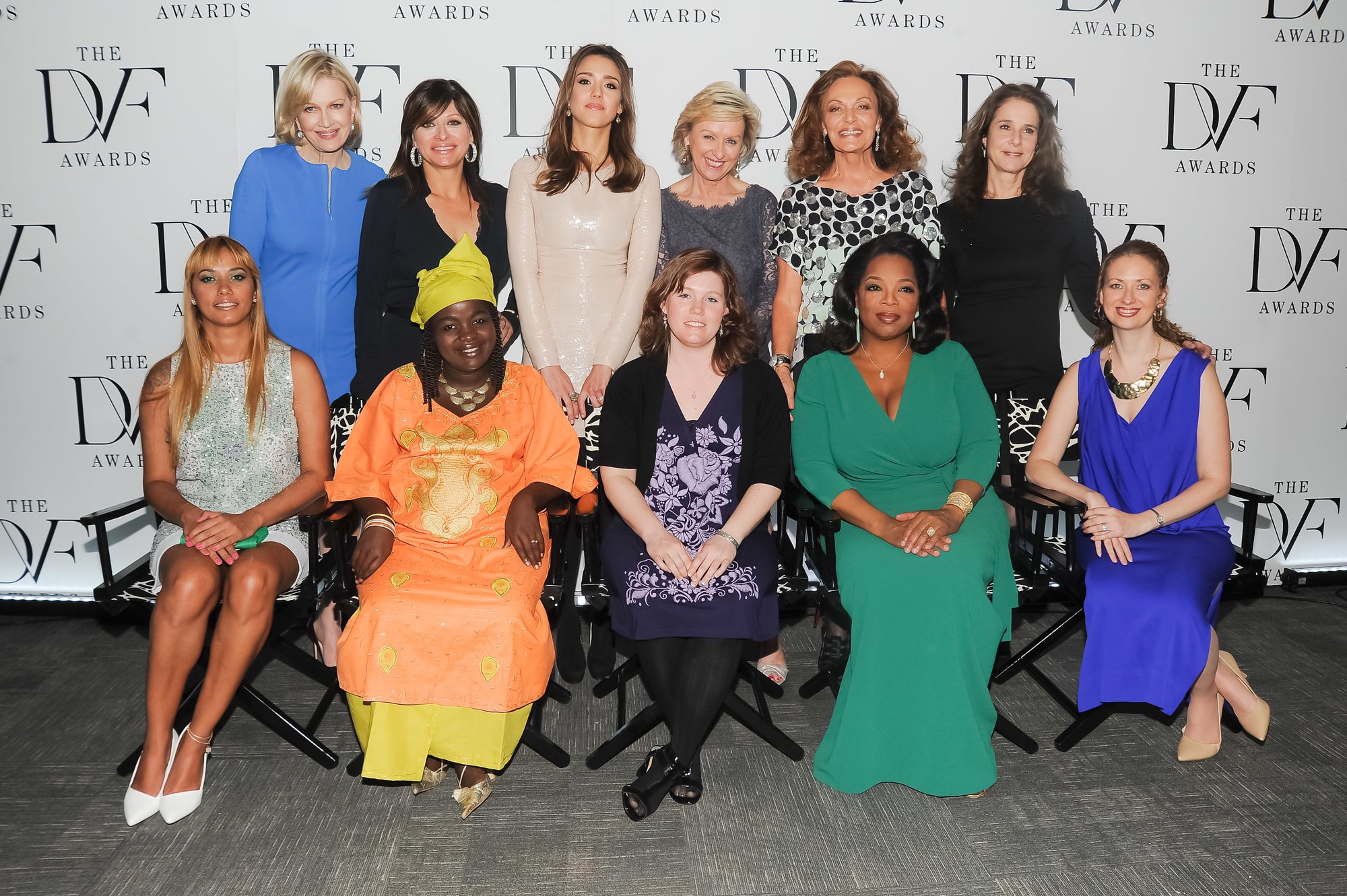 The 2012 DVF Awards Honorees
The following extraordinary women will be honored at the 3rd annual DVF Awards in New York on March 9, 2012.
This year's honorees are:
The Lifetime Leadership DVF Award
Oprah Winfrey
Through the power of media, Oprah Winfrey has created an unparalleled connection with people around the world. As supervising producer and host of the top-rated, award-winning "The Oprah Winfrey Show," she entertained, enlightened and uplifted millions of viewers for 25 years. Her accomplishments as a global media leader and philanthropist have established her as one of the most respected and admired public figures today.
The International DVF Award
ChouChou Namegabe
ChouChou Namegabe is a pioneering, fearless voice for justice and accountability in the Democratic Republic of the Congo. In 2003, she founded the South Kivu's Association of Women Journalists ("Association des Femmes des Médias du Sud Kivu" or "AFEM"), and just two years later she assumed leadership of the Association as its president. Through AFEM, ChouChou shines a light on women's issues, especially in rural areas, by broadcasting rape victims' testimonials and other news to a society where the injustice and violence of the recent past are often denied. To date, AFEM has trained more than 100 girls to become journalists, worked to change laws discriminating against women in the DRC, created its own radio station, and raised the voices of countless survivors of rape and sexual violence.
The International DVF Award
Panmela Castro
Panmela Castro– also known as Anarkia – is one of the best known grafiteiras in Rio. As a survivor of domestic violence, she decided to raise awareness of the first federal law that affirmed every woman's right to live free of domestic violence. In order to raise women's awareness of this law, as a young multi-media artist, she harnessed the power of street art to promote social change and raise awareness about women's rights. She has successfully created and implemented a number of programs, including Rede Nami, to promote women's empowerment through art and continues to expand her organizational infrastructure and the Brazilian network of grafiteras who are committed to promoting women's rights.
Since receiving the DVF Award in 2012, Panmela's graffiti workshops and exhibitions have transcended the borders of her home country, with 5,000 meters of artwork debuting in New York City, across Brazil and around the world.
The Inspiration DVF Award
Jaycee Dugard
As a little girl, Jaycee Dugard was held captive for 18 years. Following her experience, Jaycee Lee Dugard had a vision of providing, supporting and ensuring the timely treatment of families that are recovering from abduction and the aftermath of other traumatic experiences. From that vision The JAYC Foundation was created. The JAYC Foundation works to serve affected families and to provide "Protected Spaces" for them to heal. Jaycee is also the author of the best-selling memoir, "A Stolen Life."
The People's Voice DVF Award
Layli Miller-Muro
Layli Miller-Muro is the founder and CEO of the Tahirih Justice Center, a national multi-city nonprofit organization dedicated to protecting women and girls from human rights abuses through the provision of legal aid and public policy advocacy. Since 1997, The Tahirih Justice Center has served more then 21,000 individuals fleeing violence. Having just opened a West Coast office, their innovative model of support is now delivered from four cities with a commitment to serve as many immigrant women and girls as possible. "Being recognized by the DVF Award," says Layli, "has helped to elevate the hidden issues suffered by immigrant women and girls fleeing violence and has helped to catapult Tahirih, since we received the award, to being the largest multi-city organization in the U.S. providing legal defense for women and girls fleeing human rights abuses."
People's Voice DVF Award Nominees
Let your voice be heard.
The People's Voice DVF Award is chosen by popular vote and will be celebrated at the 9th annual DVF Awards to be held on April 13, 2018 at the United Nations in New York City.
This year's nominees are:
Past Awards